About EXIT Realty Specialists
EXIT REALTY IS GROWING!
And we are not about to slow down.
Our goal: 3600 franchises opened across North America and an agent count of more than 250,000!

EXIT Realty has doubled its agent count every year since its inception and the momentum is building.

EXIT has a new way of doing business that is revolutionizing the entire industry. The EXIT Formula of single-level residuals is simply the finest financial remuneration methodology ever introduced into real estate. EXIT is truly Real Estate Re-invented!
You owe it to yourself to investigate EXIT. You'll be glad you did. EXIT is the finest business decision that you will ever make. EXIT is the best return on your invested time and that is precisely what you deserve.
In today's real estate world, where "bigger is better" and companies are ranked based on their bottom line, EXIT Realty provides a fresh new approach to real estate brokerage. where the agent's welfare is the number one priority! Guess what? It works! As a result, EXIT has become the fastest growing real estate franchise EVER! The truth is, we really do care about the major asset of our company, our agents!
The secret of our phenomenal growth is simple...while the "big guys" have been focusing on their profit margins and number-one rankings...we've been focusing on building a business where agents come first.
EXIT pays the most generous splits, charges no desk fees or royalties and pays incentive bonuses up to $10,000. per year, EVERY year per agent recruited! This is a direct drive, simple, one level system and IS NOT tied to the profitability of the office. Jim recruits John into EXIT. Jim receives the equivalent of 10% of John's gross commissions paid by EXIT International (it does not come from John). So if John closes on a $5,000. gross commission transaction, Jim receives $455. ($500. less $45. transaction fee) within 3 days. If John recruits an agent in, JOHN receives the 10%; Jim receives nothing. This is one level, simple, direct, guaranteed. Agents can be recruited into your own office or in any of the almost 1,350 EXIT Offices in North America! We will have over 50,000 agents by Fall of 2008, all with a vested interest in the growth of the company. These sponsoring bonuses go on after an EXIT agent retires at the rate of 7% and to beneficiaries at the rate of 5%. In addition, EXIT agents can continue to recruit after retirement! EXIT agents can qualify for group Health Insurance at great rates with part of the premium paid by Exit International.
EXIT Realty provides world class training, unsurpassed in the industry. You can't learn how to swim out of a book. Our trainers have tremendous experience and none have made less than $500,000. per year selling Real Estate. Many companies provide no or minimal training for their agents. They don't want Superstars for fear other Brokers will go after them. As Agents can make more with our System than any other AND receive benefits, we don't worry about retention and we do strive for Superstars.
EXIT Realty truly puts the agent first. By paying more to the agent and providing benefits, EXIT is well on it's way to becoming the largest, most productive Real Estate Company on the planet! We knew this was a once in a lifetime opportunity to be a part of something huge and we jumped on it! We are thrilled to be developing the Hampton Roads Region.
Kindest Regards,
Exit Realty Specialists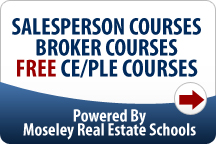 Our real estate firm has teamed up with Moseley Real Estate Schools!
Moseley has been training students in the real estate industry since 1972 and offers real estate education for Salesperson Licensing, Broker Licensing, and Continuing Education, and Post License Education. Get your free, Virginia real estate education today!